The military trains soldiers for a specific purpose – to fight and protect our country. But what happens when active duty is over? How do they transition into civilian life?
This can be a challenging process. However, there are many tools and resources for veterans to help make the switch.
One of the best transition opportunities are tech programs that can allow veterans and military personnel to continue their education and prepare them for a lucrative career in IT.
In this blog post, we will discuss why veterans should consider returning to school after military service, how to jumpstart a career in IT, and some of the best IT programs for veterans that serve as good transition assistance.
Why should you go back to school?
The transition from military to civilian life can be challenging for veterans. They have lived and worked in a certain way for a long time and now have to adapt to a completely different type of life.
One thing that can help them ease their way into civilian life is to go back to school. Here are a couple of reasons why this is a good idea:
Pursuing certificates or degrees can help them get a stable career: A solid education can give them a new purpose and direction in life and open doors to a rewarding professional future.
They can master new skills: Because of their military training and experience, veterans already have valuable skill and experience. However, returning to school can help them discover and master new ones, giving them a competitive edge in the job market.
Studying something they are interested in is an investment in a happier future: Instead of finding just any job, learning a specific thing they are interested in can open the doors to their dream job in the future. They can collaborate with teachers and peers to get knowledge and skills to excel in their chosen field.
They can receive scholarships and assistance: Veterans are eligible for many grants, scholarships, and other financial aid options that can help them pay for their education. A majority of schools, including MyComputerCareer, provide such VA benefits.
They will meet new people and make meaningful connections: Meeting people from all walks of life and widening their social circle and professional networks can help veterans readjust to civilian life.
They can get college credit for their military experience: Many colleges and schools award veterans credit towards a degree based on their previous academic coursework, military training, and experience.
A degree or a certificate can help them earn a higher wage: Gaining a degree or a certification in a specific field can influence how much a veteran can make in a year.
How to jumpstart an IT career
In order to successfully start an IT career, veterans should go through the following steps:
Assess their skills and see how they pertain to different IT positions.
Look for certification training that will allow them to gain the necessary knowledge to work in this industry.
Research available employment programs and education benefits provided by various organizations and schools.
1. Assessing their skills is crucial to choosing the right career path. Skills describe what they are good at.
Veterans develop hard and soft skills through training and experience that improve their ability to perform tasks. Being able to identify their skills allows them to answer such questions as "What can I do in an organization?" and "What problems am I good at solving?"
Some of the soft skills gained during military life that employers look upon favorably are:
Leadership
Adaptability
Integrity
Communication
Problem-solving
Teamwork
Time management
Typical hard skills gained during service are:
The ability to use hardware and software applications
Managing various network information systems and diagnosing complex network issues
Vulnerability assessments
Computer forensics
Advanced computing skills
Risk and crisis management
2. For ex military personnel members who want to start working in IT as soon as possible, certifications seem a better option than a college degree. Earning an IT certification takes less time and money and can help you gain in-demand job skills.
Some of the best IT certifications and technology education courses for jump starting an IT career are:
AZ-900 credential gives students a fundamental understanding of cloud computing and how to use Microsoft's Azure platform. Those who pass this certificate program get a firm grasp of cloud computing concepts and are familiar with Azure's services, workloads, security, privacy, pricing, and support.
SC-900: Security, Compliance & Identity Fundamentals certification gives students a comprehensive understanding of the solutions that Microsoft Azure and Microsoft 365 provide that are related to cybersecurity.
CompTIA offers entry-level and advanced certifications in cybersecurity, IT networking, cloud computing, and more.
CompTIA certificates open the door to various career paths, including IT Support Technician, Network and Systems Administration, Data Analyst, Field Service Technician, and more.
Cisco military education includes CCNA routing and switching, CCNP Data Center, DevNet Associate, and many other IT sectors.
Student veterans who earn Cisco certificates can work in such positions as Network System Engineer (from entry to senior level), Helpdesk/Service Desk Engineer, NOC Technician, Network Engineer, and more.
With Linux training and certification, students can prove they have mastered the fundamentals of the open-source platform, its technology, and servers and have extensive experience working with it.
Earning this certificate opens the doors to career paths like Server Administration, Network Engineering, and System Administration, among others.
Ethical Hacker Certification
With the EC-Council Certified Ethical Hacker certificate, student veterans can gain the knowledge and technical skills necessary to prevent and respond effectively to cyber-attacks and other data breaches.
Those who earn this degree can work as Security Analysts, Security Engineers, Security Consultants, and Network Engineers.
3. There are many employment and educational programs available for veterans. Some of the best are: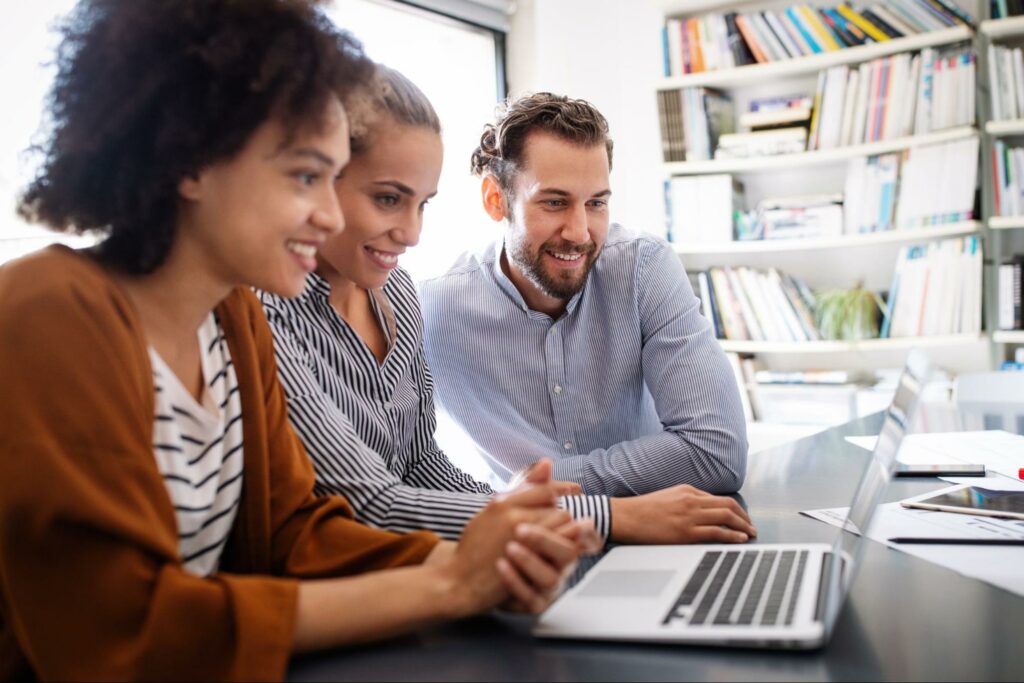 The best IT programs for veterans
The best training programs for veterans should provide good hands-on experience, career counseling, and job placement services to help veterans ease their military transition to the civilian workforce.
Some of the best IT veteran programs out there are:
Information Technology Security & Administration program (ITSA)
Information Technology Security & Administration (ITSA) is a great program for veterans who want to start a new career in IT or gain core competencies and certifications needed to advance in their existing careers.
The ITSA program provided at MyComputerCareer includes career training for six certifications designed for networking, system security, and support. These certifications are:
MTA Security Fundamentals
MTA Server Fundamentals
CompTIA A+
CompTIA Network+
CompTIA Security+
Linux Essentials
The only prerequisite for this program is a GED or High School diploma.
Upon completing this VA education program, students will gain understanding, knowledge, and skills in:
Basic hardware installation
Troubleshooting and maintenance
Networking
Configuration, maintenance, troubleshooting, and securing of computer networks and information systems
Security configuration and analysis
Topology support
Cybersecurity Specialist Program (CSS)
The Cybersecurity Specialist (CSS) program is designed for ITSA graduates and other IT professionals in entry-to-mid-level roles who want to gain additional credentials and expand their skill set in Cybersecurity, Networking, or Information Assurance.
This program allows students to expand their knowledge about wireless networking across multiple platforms and devices and earn certificates that will prepare them for WAN and switched LAN network administration, which is necessary for securing a company's systems against cyber threats.
MyComputerCareer offers a cybersecurity specialist certificate program that can prepare veterans to earn six Network Administration and Security certifications. These certifications are:
Server I (Microsoft SC-900)
Network & Security I (CompTIA Network+)
Security I (CompTIA Security+)
Network & Security III (Cisco CCNA)
Network & Security IV (EC-Council CEH (Certified Ethical Hacker))
Network & Security VI (CompTIA CySA+)
Those who complete this tech training will gain crucial skills and a thorough understanding of the following:
Basic hardware installation
Maintenance and troubleshooting
Topology support
Networking
Security configuration and analysis of information systems
Prerequisites for the CSS program may include completion of the ITSA program or equivalent training, certifications, and experience, in addition to a GED or High School diploma.
After completing this program, you can find yourself in any one of high-paying IT jobs for veterans like Firewall/Systems Engineers or Information Security Specialists.
Cyber Security Engineer program (CSE)
Any student interested in becoming a cybersecurity specialist and specializing in advanced server administration and network system design can benefit from the Cyber Security Engineer program.
The MyComputerCareer CSE program prepares students to earn six in-demand professional IT certifications. They are:
CEH – Certified Ethical Hacker
CCNA Security
CySA+ – CompTIA Cybersecurity Analyst
CCNA – Cisco Certified CyberOps Associate
CASP – CompTIA Advanced Security Practitioner
CFR – CertNexus CyberSec First Responder
Those who complete the program will gain knowledge and skills in the following:
Evaluating the security requirements of an organization and establishing best standards and practices
Creating, executing, and monitoring information security systems, networks, security software, and web security to protect the data of an organization
Identifying vulnerabilities in the network and system
Penetration testing
Dealing with security breaches within the information systems and network of an organization
Troubleshooting incidences
Investigating security breaches
Taking security measures to protect an organization's infrastructure and data
Prerequisites for the CSE program may include completion of the CSS program or having relevant experience or comparable certifications.
What are the top civilian IT careers for military veterans?
Veterans are becoming increasingly sought-after in the civilian IT industry.
Military training and experience provide a unique skill set that can make veterans competitive candidates for jobs such as network engineers, cloud computing professionals, cybersecurity analysts, software engineers, and cybersecurity specialists.
Additionally, tech jobs come with attractive salaries and job security.
Technology training programs can help hone these skills and provide an opportunity to gain the necessary certifications or accreditations to secure a job in these fields.
IT jobs, such as network engineering and cybersecurity analysis, tend to be among the most popular civilian IT careers for veterans.
These roles require a combination of technical skills, problem-solving ability, and communication that many veterans have already learned in the armed forces.
Let's break these popular careers down:
1. Cloud Computing Professionals
Cloud computing is often regarded as the future of computing. Companies worldwide increasingly depend on cloud computing to help them run their operations and become more agile, productive, and competitive.
The demand for cloud solutions is driving a growing demand for cloud computing specialists who can help design, create, and support these systems.
By choosing a career in Cloud, veterans who successfully transition to civilian life can help organizations transform their technology and go on a lifelong learning path that will be in demand for decades to come.
Microsoft Certified Azure Fundamentals is a great certificate program for veterans who want to gain basic knowledge and learn the necessary skills to start their cloud computing journey.
2. Network Engineer
Demand for network engineers in the IT industry is soaring, while candidate supply is relatively low.
As the Bureau of Labor Statistics estimates, network engineer employment is expected to grow 6% from 2016 to 2026, which is above average for all occupations.
The demand is based on the fact that organizations have become reliant on computer networks to share data, files, and other digital information. Computer networks enable access to this data across all departments within an organization.
Network engineers are responsible for designing, implementing, and maintaining computer networks. The work includes troubleshooting hardware and software, software support, system design, and analysis.
That's why they are so important. They are the backbone of any organization that relies on computerized systems to do its work, making this role ideal for veterans looking for a stable job in a growing industry.
This job requires either a bachelor's degree or specific cybersecurity certifications, such as A+, Network+, and Security+ from CompTIA or CCNA from CISCO.
3. Cybersecurity Specialist
As our digital world continues to grow, so is the demand for cybersecurity specialists. Nowadays, there is no part of IT that doesn't need protection and defense from cybercriminals who want to abuse it.
The most vulnerable industries are finance, government, healthcare, manufacturing, and transportation. Companies and organizations must protect their sensitive data, and that's why there is a growing demand for cybersecurity specialists.
These professionals design and build security systems and processes that help companies secure their data and create solutions to mitigate cybersecurity risks and vulnerabilities.
CompTIA Cybersecurity Analyst (CySA+) is the industry standard for validating that a person can perform data analysis and interpret the results to identify a company's vulnerabilities, risks, and threats. It's a crucial cert to have if you want to step into information systems security.
4. Cybersecurity Analyst
Cyber Attackers are constantly developing new and sophisticated techniques for hacking and accessing an organization's sensitive data.
As the frequency of cyberattacks increases, so does the demand for cybersecurity analysts.
These professionals work to identify security risks and develop, implement, and monitor solutions to mitigate those risks.
According to the Bureau of Labor Statistics, this is a high-paying, stable position with an expected 35% job growth between 2021 and 2023.
Those who decide to pursue this career and acquire the necessary skills and certificates will make themselves more competitive candidates for tens of thousands of open jobs in cybersecurity.
With certifications like CompTIA Cybersecurity Analyst (CySA+) and Ethical Hacker Certification (CEH), veterans can be well-suited for a career as a Cybersecurity Analyst.
Conclusion
Finding meaningful civilian employment after a military career is important in successful transitioning to civilian life. Tech career options are great for veterans, as they offer a wide range of rewarding jobs with good pay and stability.
With the right tech training programs, certifications, and support from friendly employers, transitioning into the civilian workforce can be smooth and successful.
MyComputerCareer offers veterans a variety of assistance programs and certifications in high demand, plenty of team support, and lifetime career services.
If you think it is time for a career change and need more information on getting started in IT, feel free to contact us or take our free career evaluation.