Bill Fitzgeralds Story
From US Navy to IT
I know that the experience I got while in the United States Navy, really set me up for a fantastic career in Information Technology. I joined the Navy right out of high school, since I knew college was just not in the cards for me. I worked hard on my lessons and had some great instructors to help me out along the way.
I signed up in the late 70's for the Navy's Advanced Electronics program, after the Vietnam War had been concluded. This meant rapid promotions and some of the best electronics schools the Navy had to offer at the time. I spent over a year going to school before being assigned to an F14 Tomcat fighter squadron. I was a member of VF143, "The World Famous Pukin' Dogs". We sailed on-board the aircraft carrier USS Dwight D. Eisenhower (CVN69), and my job was to fix F14 Avionics systems using computerized automatic test equipment called VAST – Versatile Avionics Shop Test. In the picture below, you can see the VAST station. The cost per station was between $10 – 14 MILLION dollars per system. Each aircraft carrier had 4. The bottom tape deck was for the Operating System, and the top was for the Test Program Tape. The systems from the aircraft were connected to the test station, and diagnostics were run on the avionics system.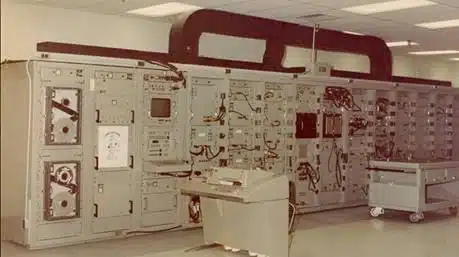 I must have done a GREAT job for the Navy, as they then sent me to become an instructor for this test bench. I found that I really LOVED being an instructor, and that's one of the reasons I am working at MyComputerCareer today. While being in the Navy, I learned first hand on how to repair avionics systems, which are the same foundation basics that we use while teaching the A+ CompTIA certification. I use these real life experiences every day that I teach and try to make sense of these complexities of Information Technology for my students.
These systems were NOT networked, and each system had its own mainframe computer (second rack) that cost about $1,000,000.00 each. They had a whopping 24K of RAM!!! I know in 2018, that sounds like US Government fraud, waste and abuse. BUT, NO ONE else had a computer system at a better price, when this system was designed in the late 1960's.
After my 8 years of active duty service, I worked for the Navy for another 11 years, doing installations and refurbishing of the above test bench. I then got a job as an apprenticeship instructor and taught our new employees how electronics work and how to troubleshoot. I was then offered a job as a software instructor, teaching MS DOS, WordPerfect, Lotus 1-2-3, Microsoft Windows 3.1 and Office. I put together my first Novell 3.11 network, and eventually ran the entire training program on the east coast.
I LOVED the training I got while in the Navy, and I KNOW it set me up for my career. I am now able to give back to my community by training others in Information Technology.
Here's a picture of me "aligning" an F14 cockpit display system, known as the Vertical Display Indicator, or VDI. This was taken around 1982 while deployed on the Ike. The test station shown above is being used to test this avionics system.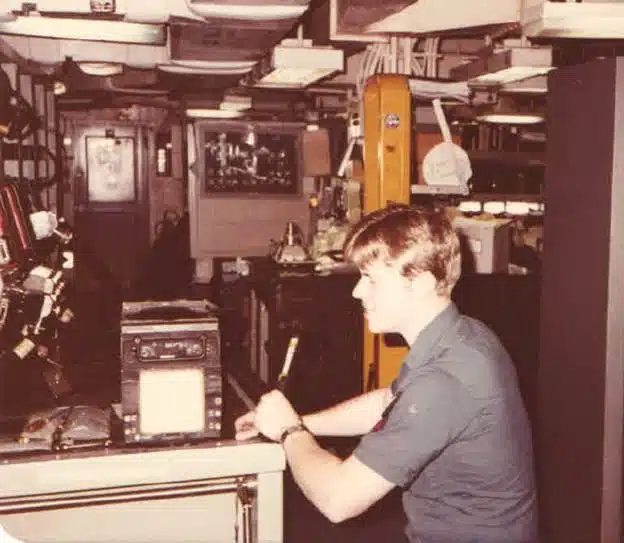 Another picture of me working in the VAST shop. A GREAT job for a 22-year-old!!!
About the Author: Bill Fitzgerald
Bill lives in Mansfield, TX with his wife Jean. He has 3 children and a step daughter living in the Dallas, TX area. He is active in the motorcycle community and serves in a riding club as a "Road Captain". He also rides with the Patriot Guard, escorting our deceased veterans on their last ride. Bill has had various IT positions, from working help desks, UNIX Admin, Cisco, Novell and Microsoft engineer, designing complete networks for urgent care clinics, System Administrator III for the FAA, and served as the IT Manager and Director for a large manufacturing company, overseeing a ½ million dollar a year IT budget. He has been teaching IT for years and teaches at the MyComputerCareer Arlington, TX campus.
About MyComputerCareer.edu
Based in Holly Springs, North Carolina, MyComputerCareer, Inc. is an innovative adult technical school with courses taught online and at its seven campuses in Indiana, Ohio, North Carolina and Texas. Students who complete MyComputerCareer's rigorous Information Technology courses may earn up to 13 highly valuable IT Certifications in areas ranging from Operating Systems to Computer Networks and Cyber Security, certificates often required even for those with four-year college degrees. In addition, these courses form the foundation for students interested in obtaining an Associate's degree from MyComputerCareer.
GI Bill® is a registered trademark of the U.S. Department of Veterans Affairs (VA). More information about education benefits offered by VA is available at the official U.S. government Web site at https://www.benefits.va.gov/gibill.
Check MyComputerCareer Out!
Want to see more? Or are you looking for IT certifications like Comptia A+, CompTIA Net+, CompTIA Server+, CompTIA Server+, CCNA, CCENT, Microsoft Certified Professional (MCP), CEH and others? Come on over and check us out!