YOU'RE
IT

AT MYCOMPUTERCAREER
If your current job or career just ain't doin' "it" for you, maybe you should consider why "IT" is documented to be the happiest career on earth!
Everyday people like you looking for more out of life, their jobs and their skill set come to us to enjoy the key features of IT. Maybe it's a shorter commute, sane work-life balance, sense of purpose or passion. They come from all backgrounds and all walks of life to pursue the opportunity for a happy community, job flexibility and excitement for their profession.
After months of training, students go from knowing nothing about IT to Information Technology Pro! They escape toxic bosses, thankless roles and minimum wage jobs to achieve a steady, 9-5 career with plenty of room to grow with time for vacations.
Does this sound like IT? The career you want, what you deserve? Learn more about how you too can enjoy the benefits of IT after only a few months of training and obtaining the most in-demand certifications of today! NO EXPERIENCE REQUIRED! NO BACHELOR'S DEGREE NECESSARY!
Yes, I want to learn more about IT
JOIN THESE MYCOMPUTERCAREER GRADS IN DOING
IT

TOO!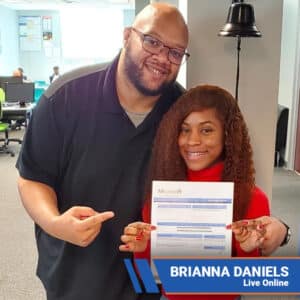 MAKE
IT

HAPPEN FOR YOU

If you're looking for PROSPERITY, OPPORTUNITY or even the POSSIBILITY of advancement, you need to increase your value. Whether you have worked at a company for over 10 years or just starting out, getting trained and certified can help give you the life you've always wanted in LESS THAN A YEAR! Explore some of the benefits of getting IT certified by clicking the tabs below.